Originally posted 22 Feb 2011:
Best Picture: Social Network vs The King's Speech
This year's Best Picture nominees cover 4 true stories, 2 literary adaptations, 2 fever dream visions & two very different 'family' films – one family-friendly animation that made grown men cry & one alternative-family indie.
But the race, without a doubt, comes down to The Social Network (TSN) & The King's Speech (TKS).
Social Network picked up every single critic's award & topped it off with the Golden Globe for Best Drama – an unprecedented winning streak that seemed to paving its path straight to the Oscar podium.
But then, along came the – arguably – more influential Guild Awards (made up of actual academy members from different technical branches) and uniformly turned the ship in favour of King's Speech. The BAFTA's, understandably, followed suit and fell all over King's Speech before the Academy declared its love by nominating King's Speech 12 times, in each conceivable category, to Social Network's 8.
The very influential Director's Guild also crowned Tom Hooper (TKS) director of the year over top seeded David Fincher (TSN).
What keeps the race interesting, however, is one last flash of hope for those in the
TSN
camp: According to
Google Oscar Search Trends,
since 2008 all 3 of the Best Picture winners -
The Hurt Locker, Slumdog Millionaire
&
No Country for Old Men -
have had an upward trend in Google search volumes in the last weeks leading up to the Oscar ceremony, as well as the highest regional interest from New York (in 2007, Best Picture winner
The Departed
had the highest regional interest from Massechusettes, unsurprising as the film is set in Boston).
This year, the film inspiring the most Google searches - with just days to go before the Oscars - is, appropriately enough, The Social Network. It sure would be one helluva exciting & trend-bucking race if the Google search trend holds up & The Social Network pulls back into first place in the final moments.
Personally, I thought both films were excellent & deserving, but would give it to the more edgy & topical choice – The Social Network. I just think it is the more interesting choice for our future children looking back into the Oscar annuls.
King's Speech is the more old school, inspiring film with just enough artful eccentricity thrown in to give it meat. The inspiration & emotion feels authentic, though, and that is why so many people are in love with it & why it will probably win the Oscar.
Social Network, on the other hand, is more scathing & cynical & really gains its depth in afterthought. It is also a film where craft is everything – where the script, director, performances, editing, score & cinematography all work together perfectly to deliver an effective drama full of themes & ideas that resonate in the world we live in.
But The King's Speech will win.
In the highly improbable occurance that voters just can't decide between TKS & TSN, the Coens' True Grit will take it. But that won't happen.
Consensus seems to be that longtime perfectionist & visual innovator David Fincher deserves it for his perfectly crafted cocktail, TSN. This is supported by his Golden Globe and, more significantly, his BAFTA win for Best Director (even though TKS took everything else). The hugely influential Director's Guild, however, are backing Tom Hooper for TKS...
Best Picture / Best Director splits do happen, but are always the exception & never expected, and therefore difficult to predict.
You'd probably want to put your money on Tom Hooper of we're predicting TKS to take Best Picture, but Fincher still feels like the right choice.
I'm gonna bet on a split & David Fincher for Best Director, unlikely and unwise as it may be.
Right from the beginning, it's been Bening vs Portman. Anette Bening was the early favourite, partly on the strength of her performance, but mostly because she is so 'due' – a combination that worked out well for Jeff Bridges last year.
The Best Actress race, however, often comes down to a younger actress turning in what Sasha Stone coined as a 'Category 5
Hurricane
' breakthrough performance, versus a veteran actress in an equally impressive, but far more subtle 'cool breeze on the lake' performance –
-
2001 –
Halle Berry in Monster's Ball
vs Sissy Spacek in
In The Bedroom
-
2003 –
Charlize Theron in Monster
vs Diane Keaton in
Something's Gonna Give
2006 – Marion Cotillard in La Vie En Rose vs Julie Christie in Away From Her
-
2010 – Natalie Portman in
Black Swan
vs Anette Bening in
The
Kids Are All Right
The young hurricane always wins.
Being Anette Bening, I can't completely count her out, but I'd put my money on Portman (if anyone would actually bet me...)
It's Colin Firth & that's that.
Melisso Leo has been taking home most of the recent awards for her overbearing, emotional, tapid mother in family / boxing saga The Fighter, but the BAFTAs shut her out entirely & gave their prize to Helena Bonham Carter (over Leslie Manville – D'oh!) & the earlier critics awards frequently honoured the reportedly highly deserving Jacki Weaver, playing another scarily overbearing mother, breathing life into her gangster sons like a warped Lady Macbeth ??? in Animal Kingdom . Weaver is an unknown, though, while Leo is well respected & a previous lead actress nominee for Frozen River. But surprises do often happen in Supporting categories.
Recent Supporting winners have favoured (semi)villains –
-
2007 - Tilda Swinton in
Michael Clayton
- 2008 - Penelope Cruz in Vicky Cristina Barcelona ('villain' is a bit of a stretch there, but not entirely amiss)
2009 - Mo'nique in Precious
So Leo & Weaver both fit the bill.
While Leo does everything right in The Fighter, and is spurned on by the irresistible double bill of The Fighter's true-life over-the-top mother & son (the son played by the much-awarded Christian Bale), she doesn't have much of an arc in the story, and merely gives excellent background support throughout. Her 'biggest' scene is an early car scene with Christian Bale where she is overcome with emotion over her son's crack addiction, only to be lulled back into his web with the manipulation of a song he knows she loves. She inhabits the role perfectly, but I wonder if, in the end, her performance is substantial enough to pull through all the way to the winner's envelope.
My preferred option is True Grit's Hailee Steinfeld, in a stirring lead performance sidelined to supporting. But is it ever good for kids to win Oscars? Probably not.
My bet would be on the Bale-Leo double bill, but I am tantalised by the idea of a double Australian upset with Geoffrey Rush getting caught in the King's Speech sweep & bringing fellow Jacki Weaver for Animal Kingdom with him to an unlikely win.
My prediction unlikely but I'm sticking to it - Hailee Steinfeld in True Grit.
Christian Bale is actually overdue for his psychologically & physically daring work in The Machinest and Rescue Dawn, as well as the rest of his solid career, and he turns in another immersive performance as the self-deluded family screw up with charisma & potential to burn in David O'Russell's The Fighter, and he is definitely the favourite to win on Oscar night.
But don't count out early favourite Geoffrey Rush as the altogether more likeable ??? who helps King George VI overcome his fears with friendship, humour & guts. With all the love for TKS, a comeback is not out of the question.
As with the ladies, Supporting Actor recently favours villains –
2007 - Javier Bardem in No Country for Old Men
2008 - Heath Ledger in The Dark Knight
2009 - Christoph Waltz in Inglorious Basterds
Christian Bale is a better fit, and he plays an Oscar-ready redemptive character arc to boot. He is the favourite to win, but if I'm betting on heroic upsets, though, I will take my chances with Geoffrey Rush.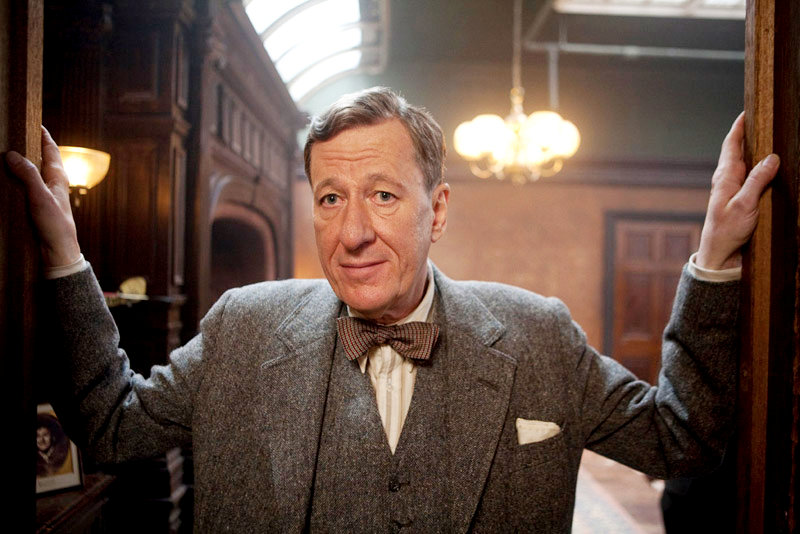 Inception deserves it, but The King's Speech has it in the bag.
The Social Network. There can be no other. (A True Grit upset would be the first time I mourn a Coen win).