One of the reasons why I started following the Oscar race is because I was always fascinated by the films and performances that were in the running, but just missed the cut.
With the final 5 (or 10 for Best Picture, these days) often being determined by fairly random or unpredictable factors – box office, popularity, topicality, timing, serendipity – there are usually a handful of deserving shut outs that there simply was not space for - often just as good or better. These are the forgotten gems of the Oscar race, and they're often more fun to dig out.
So here are the more significant casualties of this year's Oscar race, as I see them:
With 10 slots for Best Picture, there aren't really too many movies that could realistically have been nominees but didn't make it. In a way, it makes the race more satisfying, in another way it is less dramatic (no big Into the Wild-style shut outs). Many argue that 10 nominees is less prestigious, and they may have a point, but I would argue that it gives a better, more well-rounded view of the specific year in film. By being able to cater for more tastes and styles, they create a better snapshot of the year, and become more relevant, if slightly less prestigious.
This year's list is pretty great & diverse, with indie favourites (Winter's Bone, The Kids Are All Right), art-house hits (Black Swan), Box Office brilliance (Inception, Toy Story 3) & just plain solid (True Grit, The Fighter, The King's Speech) and topical (The Social Network) dramas. I'm not sure exactly where 127 Hours fits in – probably a little bit of all of the above.
For the coulda-been-contenders, go ahead & click :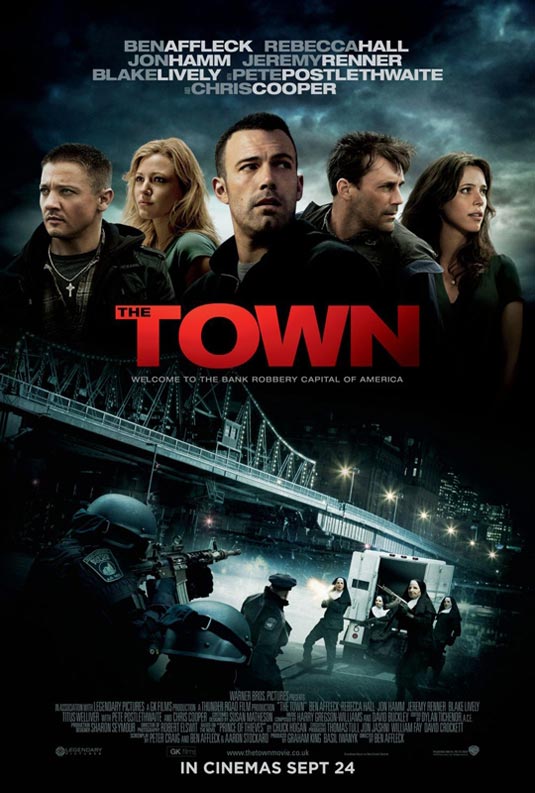 The Town
Ben Affleck's smart, entertaining action drama probably came the closest to being a nominee after fair critical attention & surprising box office helped it show up on many year-end Top 10 lists. It's a solid crime caper told as an involving character drama, with an exceptional and committed cast of actors, but considering that either Winter's Bone or The Kids Are All Right likely took its place in the final 10, it's probably a fair trade.
Shutter Island
Martin Scorsese's Shutter Island is a melodramatic horror exercise, but thrillingly executed & lathered in emotion & stylish cinematic tricks. One of the year's boldest & most original films, and Scorsese's first since his Oscar win, it seemed to be a strong contender early in the year, before Inception fully invaded the 'twisty Leo DiCaprio dream drama' slot. Pity.
How to Train Your Dragon
When How to Train Your Dragon came out & was given the stamp of approval by critics & audiences, many were excited at the prospect of a non-Pixar animated film standing a chance at a Best Picture nomination. At this point, expectations for Toy Story 3 were fair to low, being a sequel of a sequel after all. But then Toy Story 3 came out and was, well, a massive success & an instant lock for a Best Picture nomination. & There really is not space for two animated films in the Best Picture race. Not yet.
After winning the Golden Lion in Venice, Sofia Coppolla's Somewhere promptly dropped right off the map. Many murmured that the film seemed to be merely a carbon copy of Coppola's Oscar-winning Lost in Translation, or criticised Coppolla's indulgences in chronicling the woes of the disillusioned elite. There was even backlash claiming that the film only scored Venice's top prize because Coppolla's ex, Quentin Tarantino, was on the jury. Of those who actually saw the film, however, just as many called it one of the year's best crafted, intimate & subtly moving dramas. But the damage was done, and with 2 female-directed indies already making their way to the final 10, Somewhere didn't stand a chance.
Blue Valentine
A harsh, nakedly honest portrait of a marriage falling apart, coupled with the story of how it started, Blue Valentine belongs to its two stars, but it all starts in Derek Cianfrance's intense writing & is imminently more watchable thanks to his gorgeous, intimate visual style & Grizzly Bear's alternative soundtrack. Easily one of the year's best independent American films, but in a year with no shortage of celebrated indies, it is quite a downer. Would have been high on my list, though.
Another Year
A pitch perfect Mike Leigh screenplay, amazing performances plus great reviews did not equal a nomination for this intricate, character-driven Brit-drama. Perhaps it is fair - The King's Speech had already called dips on the British Drama slot (even the BAFTAs almost fully ignored Another Year) and, although this is vintage Mike Leigh, it is a subtle & acquired taste. Very dry on plot, while demanding patience & viewer participation, I think it stands up better when not judged under the harsh light of being an Oscar contender. It's a pity Lesley Manville got overlooked, though, but more on that later.

Next up, the overlooked actors & directors.