(Originally posted on 15 Nov 2010)
Female directors have had it rough in Hollywood. Although there are a few female directors with fairly successful Hollywood careers (Gillian Armstrong, Julie Taymor, Penny Marshall, Nora Ephron, Nancy Meyers & those mentioned below), it is indicative of the female director's status in Hollywood that they have barely featured at all in the industry's biggest back-patting ceremony: the Oscars.
Out of all the Best Director nominees in all 82 years of the Academy Awards, there have been four female nominees:
- Lina Wertmuller for Seven Beauties (1975 - also nominated for Best Original Screenplay)
- Jane Campion for The Piano (1993 - won Best Original Screenplay)
- Sofia Coppolla for Lost in Translation (2003 - won Best Original Screenplay)
- Kathryn Bigelow for The Hurt Locker (2008 - won Best Director)
(Screenplay seems to be a consolation category...)
Yep. Four. Four out of about 410 nominees. I won't even calculate the percentage (but white women still have the lead on black men, who have a sum total of two nominations - and neither of them is for Spike Lee - and don't even mention black women).
Randa Haines' Children of a Lesser God and Barbra Streisand's The Prince of Tides were nominated for Best Picture, but not Best Director.
Recently, this has STARTED to turn around.
Female-penned films have fared well in the screenplay categories in the last few years - 2008: Diablo Cody's Juno, Nancy Oliver's Lars and the Real Girl, Tamara Jenkins' The Savages dominated the Original Screenplay race (with Cody memorably taking the prize) and Sarah Polley's Away From Her was in the running for Adapted Screenplay (Polley and Jenkins also directed).
2009: Courtney Hunt's acclaimed indie thriller Frozen River defied the odds of obscurity to land its director a Best Original Screenplay nod, and it's star (Melissa Leo) a place in the Best Actress race.
In 2010, Kathryn Bigelow's The Hurt Locker historically swept the awards, won the first ever Best Director gong for a woman and 'stole' Best Picture from the highest grossing adaptation of Pocahontas ever. Lone Scherfig's An Education was also up for a number of catagories, including Best Picture and Best Actress. Jane Campion's gorgeous Bright Star, unfortunately, missed out almost entirely, only managing to make an impression in Costume Design, and unfairly losing to The Young Victoria (seems you can't beat a period piece about a Queen...).
This year, four female directors have turned in four of the year's best indie films, and we can only hope they'll make an impact at Oscar time:
- Sofia Coppolla is back with Somewhere. It won the Golden Lion at this year's Venice Film Festival, but received immediate backlash due to Coppolla's ex, Quentin Tarantino, being on the jury. It looks amazing, although the setting and tone seem similar to Lost in Translation (like that's a bad thing..?). It is not a frontrunner, but with 10 Best Picture nominees, it is certainly in the running for this year's Oscars
- Debra Granik's serious-minded down-south thriller Winter's Bone made big waves at Sundance and has been getting brilliant reviews since - mostly for its leading lady, but also for the successful adaptation of the acclaimed novel. Consensus seems to be that it is a brilliantly made film, but it is a small indie with an early release date, and will have a hard time being remembered at voting time. Definitely in the running, though. (I'm not a fan of the poster, though)
- Lisa Cholodenko's The Kids Are Alright is this year's little indie that could: smart, funny and, well, controversial. A comedy drama with serious themes, three star performances, and decent box office, it is already considered a frontrunner to be one of the 10 Best Picture nominees.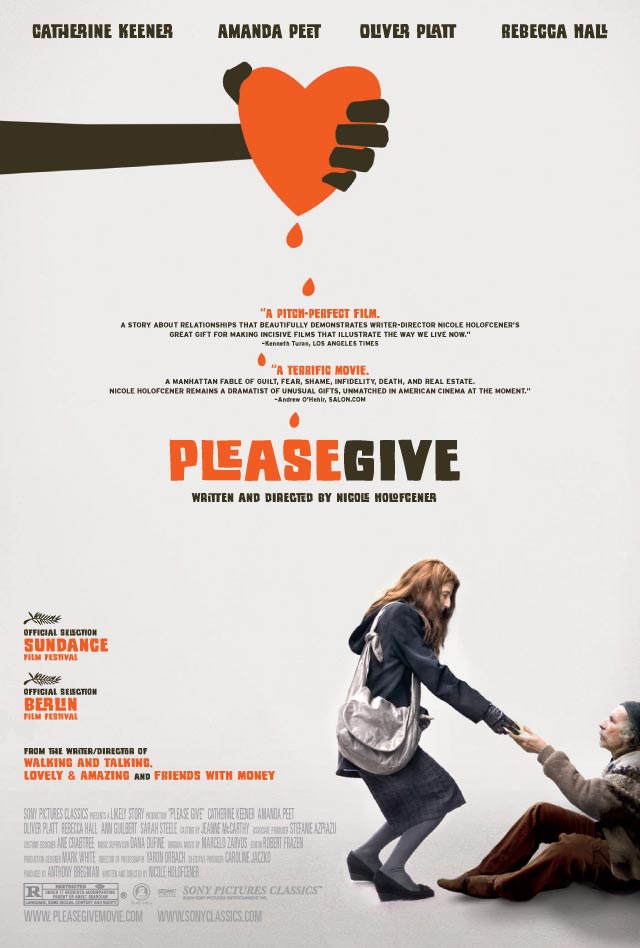 - Nicole Holofcener's Please Give has a great cast and a great script, but is perhaps too indie, too Woody Allen (but not Woody Allen) and too rambling to be a serious contender. It will probably slip through awards season largely unnoticed, but features some of the year's most memorable female performances, some great lines, great moments and great ideas.
With at least one, likely two, at a stretch three, of the above possibly landing in the BP Top 10, and each of them decidedly more female-centric than Hurt Locker, female directors in Hollywood may have landed. Here's hoping.