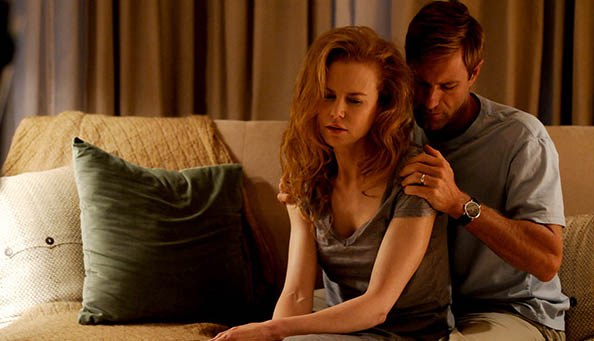 Running down the racehorses contenders for this year's Best Actress nominations, first up is Nicole Kidman in John Cameron Mitchell's Rabbit Hole. Not because she is the leading contender, far from it, but because the great-looking trailer for Rabbit Hole has just hit the web:
http://www.traileraddict.com/trailer/rabbit-hole/trailer (tried to embed, but no luck).
The film is about a couple dealing with the loss of their young son, and trying to piece life back together, which sounds dreary, but with Cameron Mitchell at the helm of the Pulitzer winning play, critics are hailing it as warm, witty & refreshing:
'...
incisive, observant and warm... a
refreshingly positive-minded take on cinema's ultimate downer' -
Peter Debruge
(
Variety)
'...
pretty much flawless.' -
Scott Weinberg
(
Moviefone)
The major draw card is the three leads: Nicole Kidman, Aaron Eckhart & Dianne Wiest. All three performances look great - based on the trailer & the clip below - but this is Kidman's vehicle, and it is about time she gets back in Oscar's good books (I have no idea why she was ever out). Based solely on these brief impressions, her performance thankfully seems to rely more on nuance of character than on the theatrics of grief. Here's hoping.
Cameron Mitchell's career has been anything but straight forward thus far, and it is good to see hints of his risk-taking creative energy emerging in the training. His outsider approach should go far in rescuing Rabbit Hole from maudlin melodrama.
As for Kidman, an Oscar nomination is built on how much goodwill an actor has built up with the Academy, how good their PR campaign is &, only lastly, the performance. Don't believe me? Remind yourself who won Best Actress last year? & Who did she beat?
'Nuff said. (How great are the posters for Precious & An Education?! I excluded The Last Station, because Dame Hellen Mirren was never going to beat those three.)
Kidman's performance seems to be in the bag this year & I think the Academy has punished her enough for Stepford Wives & Cold Mountain, so all she needs is some good marketing, & it feels like Lionsgate is pushing this on grounds of its Oscar potential, so hopefully it takes.
Kidman has always been a fascinating screen presence, even from the early days of Billy Bathgate & Dead Calm, before Tom Cruise came along & de-cooled her. Her finest hours, imho, have been in To Die For, The Others, The Hours, Dogville & Birth, but she also delivered excellent work in Eyes Wide Shut, Moulin Rouge!, Birthday Girl, Fur & had awesome hair in Portrait of a Lady.
A few misjudged comedies, some cold dramas & an ill-advised second venture with Baz Luhrmann aside, Kidman has consistently sought out indie gold, and has delivered diverse & mesmerising work.
Her most unfairly slated performance, imo, is in Margot at the Wedding. Yes, Noah Baumbach takes risk in building his film around such a wholly unlikable character, but the character Kidman essays is detailed & pitch perfect. You may never come to like her - which is certainly entirely intentional - but you do come to feel sorry for her, and that in itself is an achievement. A brave and unflinching (& wholly unglamorous) performance.
Be that as it may, Rabbit Hole seems to have landed her back in the game.
Margot at the Wedding Trailer: